For SPM applications that require hard contact between probe and sample we recommend our Diamond Coated Tip.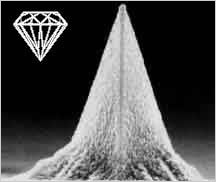 Our Diamond Coated Tip is now available as a Conductive Diamond Coated Tip.
Some applications are Friction Force measurements, measurements of elastic samples, as well аs wear measurements or nanostructuring.
Tip and Coating Features
True polycrystalline diamond coating on the tipside of the cantilever
The tip hight is 10 – 15µm
The thickness of the diamond layer is approximately 100nm.
The macroscopic tip radius is in the range of 100 – 200nm.
In the case of the CDT the conductivity is in the range of 0.003 – 0.005 Ohm*cm.