Neuchâtel, February 19th 2014, NanoWorld AG today announced the official commercialization of six types of Ultra-Short Cantilevers (USC) dedicated for use in High-Speed Atomic Force Microscopy (HS-AFM).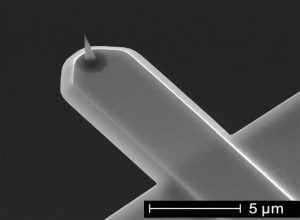 High Speed Atomic Force Microscopy is a quickly evolving technique within the field of Scanning Probe Microscopy that enables the users of dedicated instruments and AFM probes to visualize dynamic processes at the single molecule level. (See also www.highspeedscanning.com).
After a very successful beta-testing phase six types of AFM probes for high speed scanning will be commercially available from now on.
In order to provide a suitable probe for the complete range of high speed scanning applications, the Ultra-Short Cantilevers series consist of six different types of AFM probes divided in 2 categories.
Three types of Ultra-Short Cantilevers with very high resonance frequencies (1.2 MHz – 5 MHz) and high force constants are mainly meant for use in dynamic mode applications in air.
USC-F5-k30

USC-F2-k3

USC-F1.2-k7.3
Three further types of Ultra-Short Cantilevers with high resonance frequencies and low force constants (0.6 N/m – 0.15 N/m) are mainly dedicated for applications in liquid.
USC-F1.5-k0.6

USC-F1.2-k0.15

USC-F0.3-k0.3
All AFM probes of the USC type feature a wear resistant tip made from High Density Carbon/Diamond Like Carbon (HDC/DLC) with a typical tip height of 2.5 µm and a radius of curvature typically < 10 nm. The aspect ratio is typically 5:1 and the tilt compensation is 8°.
The cantilevers are coated with gold on both sides but the tip remains uncoated.
A dedicated website for HS-AFM www.highspeedscanning.com also shows not only the commercialized types of AFM probes for high speed scanning but also application examples by well-known researchers in the field as well as literature references on this growing field of research.

A screencast on the new USC probes has already been uploaded on the NanoWorld YouTube Channel:
About NanoWorld:
Swiss-based NanoWorld AG is a leading manufacturer of high quality tips for Scanning Probe Microscopy (SPM) and Atomic Force Microscopy (AFM). The Atomic Force Microscope (AFM) is the vital instrument for the whole field of nanoscience and nanotechnology. It enables its user coming from research and commercial nanotechnology businesses to investigate materials on an atomic scale. Scanning probes for Atomic Force Microscopy produced by NanoWorld AG are the key consumable, the "finger" that enables the scientist to scan surfaces point-by-point on an atomic scale. The consistent high quality of the scanning probes is vital for reproducible results.
Using NanoWorld's expertise as well as our high precision AFM Probes, our clients are able to get the best results they need for atomic force microscopy (AFM).