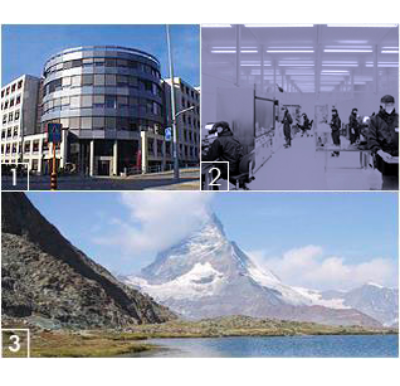 [1] NanoWorld®, Neuchâtel
[2] Cleanroom
[3] Matterhorn, Switzerland
INNOVATION AND PRECISION - TWO KEY ELEMENTS FOR SUCCESS
That's why we are located in Switzerland, one of the most powerful and innovative areas in Europe. Using our knowledge as well as our high precision AFM Probes, our clients are able to get the best results they need for atomic force microscopy (AFM).
The Atomic Force Microscope (AFM) is the vital instrument for the whole field of nanoscience and nanotechnology. The AFM enables its users coming from research and commercial nanotechnology businesses to investigate materials on an atomic scale. Therefore, whenever and wherever nanotechnology achieves a breakthrough and opens new markets AFM technology is sure to be involved in this process.
Scanning probes for Atomic Force Microscopy produced by NanoWorld® AG are the key consumable, the "finger" that enables the scientist to scan surfaces point-by-point on an atomic scale. NanoWorld® AFM probes are used in many fields such as nanoscience, materials science, physics, biology, life science and many others. The consistent quality of the scanning probes is vital for reproducible results.
Since the beginning of the 20th century Switzerland has been a cradle of great Innovations in Precision Mechanics, and today in Micro- and Nanotechnology. Many famous Swiss clock makers started their successful work in Neuchâtel and the Atomic Force Microscope (AFM) was invented not far from here.
In this perfect infrastructural surrounding NanoWorld® AG is located next to Microcity (part of EPFL) and the CSEM (Swiss Center of Electronics and Microtechnology).
With Cleanrooms and Offices close together we have the best environment to innovate and produce novel scanning probes with maximum efficiency.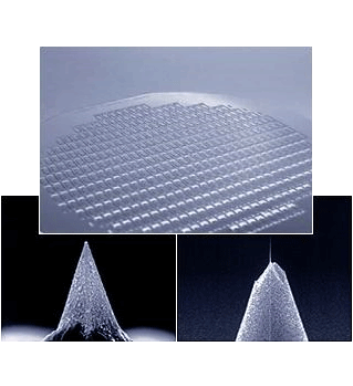 YOUR CHALLENGES ARE OUR INCENTIVE
The NanoWorld® Research and Development team works continuously to meet your future requirements.
Continuous product development We put great emphasis on continuously developing and further improving our well-established products like the Pointprobe® series.
New Products and Applications We develop our future products making use of the newest, most innovative technologies and materials. By permanently expanding the spectrum of our products we aim at opening new market segments and new applications for our clients.
Customized Solutions Besides our wide variety of products we are able to offer customized solutions and special developments to meet the particular demands and needs of our customers.
For your own scanning probe please contact our development team at developers@nanoworld.com
MANAGEMENT

Manfred Detterbeck
CEO NanoWorld® AG

Michaela Roessger
Head of Marketing, NanoWorld® AG

Daniel Guntli
COO, NanoWorld® AG
For detailed information about our AFM probe product series please see below: